what we can help you with
with our fri:dom DIY building package we want to make home building accessible also to non-builders. as a first step, we want to create a transparent overview of both the required actions and involved costs. to reach this, it's important to split the entire proces in its individual parts.
CNC milling
cutting the fri:dom building package
we work on a 'mass-production on demand' principle, where standardisation patterns help us to keep the price and work hours at a minimum, while digital planning and CNC fabrication allow us to efficiently incorporate custom changes to the base models.
building materials
a few simple choice, socially and ecologically conscious
we can provide a small range of building materials that have been hand-picked according to their ecological value and social responsibility. our material portfolio is aimed at facilitating the building of a water-proof, insulated shell, and stops at the interior finishing, fixtures and fittings.
please remember that all these choices are optional - you are very much encouraged to make your own choices, find your ideal materials (first, or second-hand) and build your home according to your own ideas.
building partners
external experts that can assist you with your project
our core focus lies on being facilitators of home-building, and not trying to cover the entire construction proces. this we want to leave to the experts with years of experiene. you can choose to find your own construction advisors, or we can connect you with our Mindful Homes Network of trusted specialists who can help you  with any step on the path to finshing your future house.
the price of fri:dom
every project is so unique and as much as we want to give one precise price - it's just not helpful to come up with one amount, that will either leave people illusioned or hopeless. what we can be, however, is transparent on every step of the way.
depending on the type of project, the building process itself can stretch from creating a suitable foundation, the construction of the frame, electrical installations, all the way to interior finishing, transportation or (off-)grid connections.
here is a cost estimation that shows an example of what to roughly expect when approaching a construction project, using the fri:dom building package and all new materials. of course each of these items can be replaced by a second-hand option or other material of choice.
important: the prices below might no longer represent current market prices and are based on personal choices of materials. no work hours were considered in this calculation, as they were carried out by the customers themselves. second-hand materials and personal involvement can significantly reduce the overall costs of the build.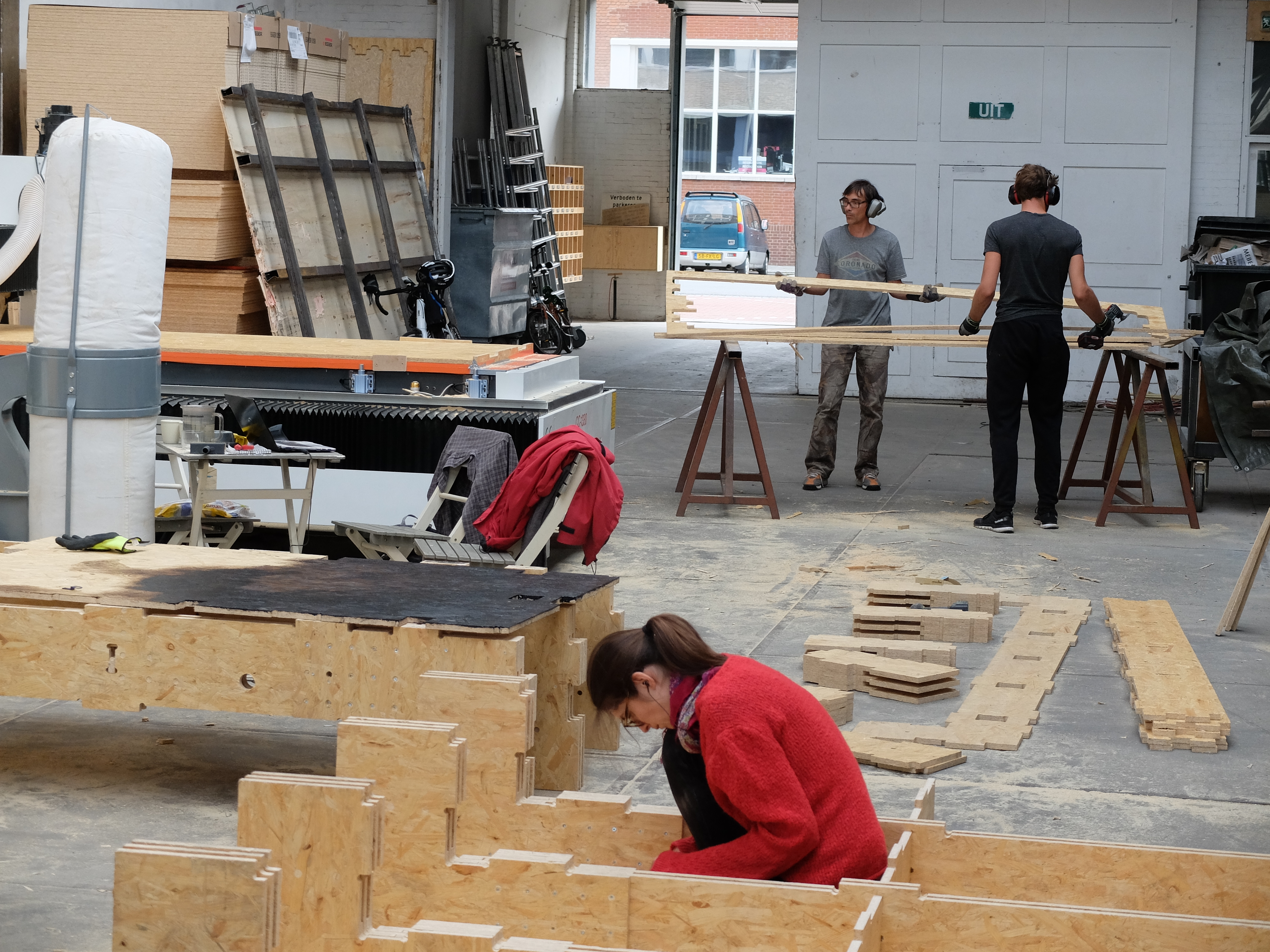 | | | |
| --- | --- | --- |
| name | description |  estimated price |
| fri:dom DIY kit | 8 x 3,5m frame, including including interior panels | 12.100 € |
| transport DIY kit | calculated for 50km range (the hague, NL) | 350 € |
| foundation works | foundation beams (e.g. steel, laminated wood) | 1000 € |
| assembly assistance | 3 days, 2 people (35€/hr) | 2000 € |
| windows/doors | 6 windows + door + glas panel top-unit | 7.500 € |
| insulation | GUTEX Thermoflex 240mm, calculated for 136m2 | 3700 € |
| roofing | calculated for 35 m2, excl. labour | 1000 € |
| electrical, sewage | materials, excl. labour | 1000 € |
| interior wall finish | finishing wall panel (e.g. gypsum, plywood) | 700 € |
| outside cladding | thermally modified wood, calculated for 105m2, 40€/m2 | 4200 € |
| construction wood | furring strips, interior walls, etc. | 500 € |
| misc building materials | nails, screws, house wrap, tapes | 800 € |
| unexpected | | 2000 € |
| furnishing | stove, kitchen, bathroom, toilet, furniture, technical appliances | personal choice |
| | | |
| TOTAL |   | 36.850 € |
| | | |
| off-grid setup | solar panels, batteries, inverter, cables, etc. | 7000 € |
| | | |
| TOTAL |   | 43.850 € |